Sato Yosuke Shoten Flagship Store
Sato Yosuke Shoten Flagship Store
Sato Yosuke Shoten Flagship Storeとは
About
Sato Yosuke flagship store has been constructed to celebrate 150 years anniversary, and its construction finished in 2008. It shows you our passion to hand-made Inaniwa Udon, and the quintessence of Inaniwa Udon; secret techniques and sprits handed down from father to son,「一子相伝( Issi souden) 」. We are welcoming you with various services to make your trip memorable such as tourist information, dining, a souvenir shop, and observing and trying making Inaniwa Udon.
In tourist information, you can search on tourist spots, famous hot springs, hotels, and seasonal events of Akita.
In the restaurant, you can taste not only standard Inaniwa Udon, but also seasonal dishes and more. We are sure that Inaniwa Udon made in this village will amaze you by the wonderful taste.
In the observation space, you can watch how Inaniwa Udon is made; kneading, twisting, stretching, and selecting are the processes that require techniques of well-trained craftsmen.
In the souvenir shop, you can find not only Sato Yosuke Inaniwa Udon, but also Akita's traditional handmade crafts such as Kawatsura Sikki, lacquered handmade crafts produced in Kawatsura Village ,and Akita Sugi-Zaiku, crafts made of Japanese cedar produced in Odate City.

店舗情報
Shop Information
Address
Sato Yosuke Shoten Flagship Store 80 Aza-Inaniwa Inaniwa-Cho Yuzawa City Akita Prefecture, Japan
Phone Number
+81-18-343-2911
Business Hours
Observing factory: 9am to 4pm
Souvenir Shop: 9am to 5pm
Dining: 11am to 5pm
Holiday
Flagship store opens every day except New Year holidays from end of December to beginning of January.
施設のご案内
Facilities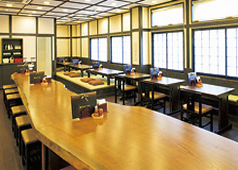 Restaurant
After observing our factory, relax and enjoy the great taste of Inaniwa Udon in our restaurant in Inaniwa Village. We serve you various dishes, not only standard Inaniwa Udon but also seasonal and special.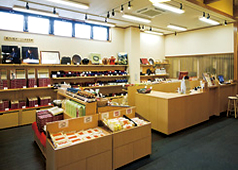 Souvenir Shop
We have our Inaniwa Udon and soups for gifts at our souvenir shop. We also have Akita's regional products, such as Kawatsura-Sikki, lacquered handmade products such as a bowl produced in Kawatsura Village and kabazaiku, handmade products made of cherry blossoms' bark produced in Kakunodate City. Feel free to stop by to get some souvenirs to your loved one, and for your own memory.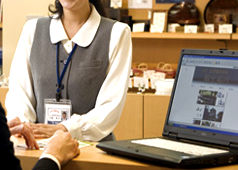 Tourist Information
We have tourist information for your convenience. You can find tourist spots, hotels, and seasonal events of Akita prefecture.